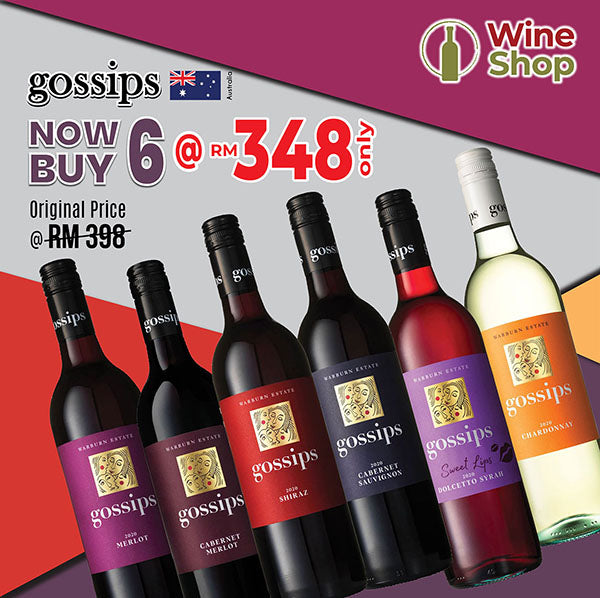 Gossips Wines Collection Promotion
Description:
Gossips Merlot - Medium red. Red berry fruits & spice. A rich, ripe & juicy palate of raspberry & plum fruit. Contains a smooth and warm finish.

Grape Variety: Merlot  


Gossips Cabernet Merlot - Medium red. Stewed plum and vanilla aromas with a hint of spice. Medium bodied with delicate, plum berry fruit flavours and a well-rounded structure.

Grape Varieties: Cabernet Sauvignon, Merlot  
Gossips Cabernet Sauvignon - Medium Red. Fresh black current and earth-like aromas. Rich with lovely berry fruit & wood flavours fused with choc-mint and backed by an excellent tannin structure.
Grape Variety: Cabernet Sauvignon
Gossips Shiraz
- Crimson colour. Dark berries with chocolate earth aromas. A perfectly balanced and spicy fruit symphony matched with soft, silky supple tannins.

Grape Variety: Shiraz  

Gossips Chardonnay
- Pale straw with lemon hue. White peach & citrus aromas. Fresh peach & melon flavours.  

Grape Variety: Chardonnay   
Gossips Dolcetto & Syrah Sweet Lip (Red) - Rich ruby red. Fresh strawberries & raspberries. The rich palate of cherries & dark berries is balanced by a crisp acidity.

Grape Variety: Dolcetto & Syrah  
Country: Australia
Size: 750ml 
Purchase 6 different types of grape varieties @ RM348 included FREE DELIVERY 
All Pictures shown are for illustration purpose only