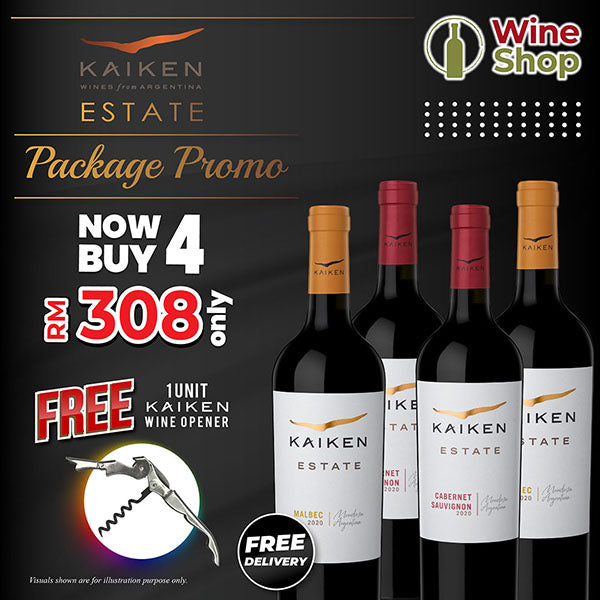 Kaiken Estate 4 Pack Bundle
Description:
Kaiken Estate Malbec
Appearance: Ruby red with violet highlights and extraordinary brightness pointing to its youth. Great fluidity and medium depth.
Aroma: Ripe dark fruits, such as plums and blackberries, stand out, joined by delicate notes of semisweet chocolate.
Palate: A gentle, juicy, pleasant attack. A hint of dry flower petals on the palate.
Grape Variety: 100% Malbec
Awards: James Suckling 90 Points
Kaiken Estate Cabernet Sauvignon
View: Deep, ruby-red color.
Nose: Exhibits a great array of fuity notes, among which fresh red berries stand out, intertwined with aromas of eucalyptus and menthol.
Palate: A genuine expression of the typical flavors of a Cabernet Sauvignon is perceived, combined with unusual and extraordinary softness.
Grape Variety: 100% Cabernet Sauvignon 
Awards: James Suckling 91 Points
Country: Argentina
Size 750ml
Bundle Pack:
2 x Kaiken Estate Cabernet Sauvignon
2 x Kaiken Estate Malbec
FREE KAIKEN WINE OPENER (LIMITED EDITION)
FREE DELIVERY
All Pictures shown are for illustration purpose only