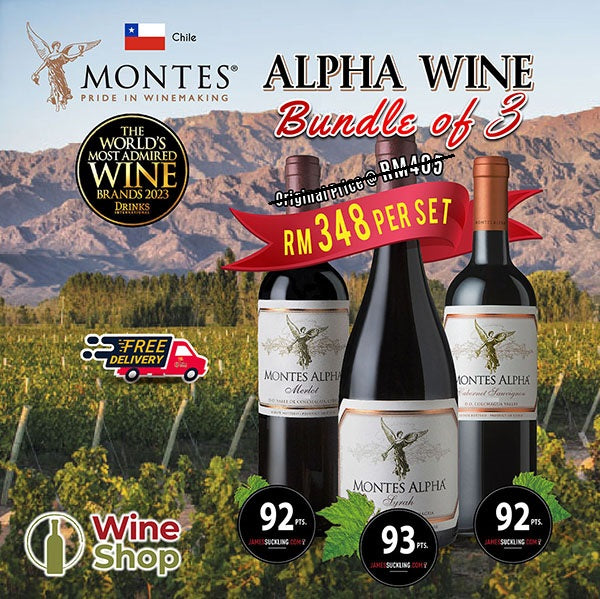 Montes Alpha Wine - Bundle of 3
Description:
Montes Alpha Cabernet Sauvignon - The complex nose offers outstanding aromas of ripe black fruits such as figs and blackberries complemented by notes of crème de cassis, while spices such as cayenne pepper appear over a back of dark chocolate, which masterfully envelopes subtle aromas of leather and tobacco. The palate with perfectly rounded tannins that trigger an explosion of the fruit on the mid-palate. 
Grape Varieties: 90% Cabernet Sauvignon , 10% Merlot  
Awards: Tim Atkin MW 2021 Report - 92 Points
Montes Alpha Merlot - The nose is complex with varied aromas of ripe black and red fruits such as blackberries, figs, and plums in syrup. Spice notes of black and red pepper intermingle with a touch of fresh tobacco and leather. This is a well-structured wine with good volume on the palate and smooth, round tannins that make this an ideal wine to enjoy now or over the course of the next 10 years.
Grape Varieties: 90% Merlot, 10% Carmenère  
Montes Alpha Syrah - Aromatic nose with outstanding aromas of ripe black fruits such as blackberries and figs. Aromas of crème de cassis meld with mild notes of leather and dark chocolate, which are very characteristic of Syrah from Colchagua. The palate is well balanced with rich acidity, incredibly smooth tannins, tremendous structure, and generous volume.
Grape Varieties: 90% Syrah, 7% Cabernet Sauvignon, 3% Viognier
Awards: Descorchados 91 points  
Country: Chile  
Size: 750ml       
Montes Alpha Bundle of 3 Included:
1 x Montes Alpha Cabernet Sauvignon
1 x Montes Alpha Merlot
1 x Montes Alpha Syrah 
Purchase 1 set of Montes Alpha Bundle of 3 FREE DELIVERY within Klang Valley & Seremban area
All Pictures shown are for illustration purpose only