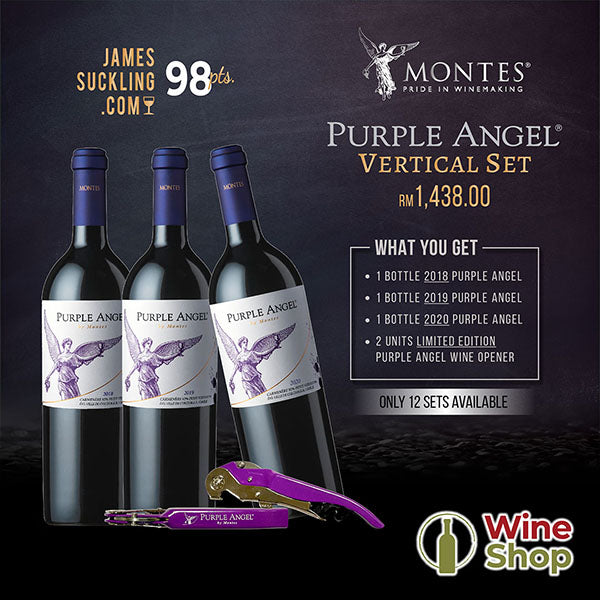 Montes Purple Angel Vertical Set
Description:
Montes Purple Angel 2018 - With this new vintage, Purple Angel shows a deep, carmine-red colour, typical of Carmenère. The aromas are complex, with pronounced black fruit, like blackberry and ripe blueberry. There is also dried plum, cooked cherry and candied fruit. Its 18 months in French oak gives a complex nose of toasted aromas, nuts, sweet spice and touches of dairy and vanilla. On the palate, the flavours follow on from the aromas, with sensations of dark fruit and dairy well balanced with the toast. It is finely balanced, with good body and a long finish. 
Montes Purple Angel 2019 - This new vintage of our Purple Angel has all of the character and complexity we are accustomed to. With an intense and deep carmine-red colour, the wine delivers a pool of fresh fruit aromas, such as blackberry, blueberry, red plum, and ripe cherry. There are also bakery, candied, and subtle spice notes that mix well with the aromas from the French oak, including balanced toast, vanilla, and mocha. The palate is balanced and vibrant, with complex body and extremely smooth tannins. 
Montes Purple Angel 2020 - Deep carmine-red in colour, typical of the variety. The aromas are diverse and complex, with a predominance of ripe black and blue fruit, including blackberry, plum, and blueberry. The 18 months of contact with French oak add strong notes of sweet spice, pink pepper, coffee, and tobacco, which are well paired with the fruit notes. The palate is balanced and silky, with the same fruit and dairy notes reappearing, including dulce de leche, enveloped within its big body and very long finish.
Grape Varieties: 92% Carmenere, 8% Petit Verdot  
Awards for Montes Purple Angel 2018, 2019 & 2020 - James Suckling 98 Points
Country: Chile   
Size: 750ml
Montes Purple Angel Vertical Set Included:
1 Bottle of Montes Purple Angel Vintage 2018
1 Bottle of  Montes Purple Angel Vintage 2019
1 Bottle of Montes Purple Angel Vintage 2020
2 units Limited Edition Montes Purple Angel Wine Opener