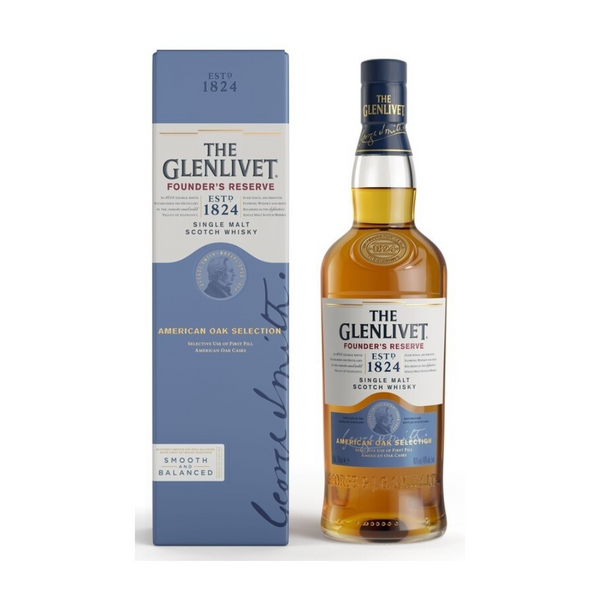 The Glenlivet Founder's Reserve 1824
Description:
Inspired by our legendary founder George Smith, this whisky is an expression of both tradition and innovation. Its creamy sweetness originates from the selective use of first-fill American oak casks, still so full of the Bourbon character their previous occupants left behind, and complemented by traditional oak casks. This sweetness contrasts wonderfully with the liveliness of zesty fruits, creating an expression that is worthy of its reserve status.
Nose: Some dates then what at first appears to be a touch of salinity, but is better described as a slightly sharp plum and apricot wine note. There's orange zest, toffee, hints of struck match and chocolate raisins, but before this starts to sound 'Sherried' there's also pear drops, a dusting of sweet cinnamon, honeysuckle and sweet pea.
Palate: Fruity, then sweet, more toffee, a touch of anise, then into milk chocolate Flakes, banoffee pie and apple turnovers.
Finish: Creamy toffee to the fore now, a little oak and sweet barley sugar warmth too. Milk chocolate raisins linger.
Size: 700ml
Country: Scotland
Alcohol Percentage: 40%
All Pictures shown are for illustration purpose only